S31  James Estep

pp. 121-122

S31  James ESTEP was born 16 Feb 1795 in Wilkes (now Ashe) Co., NC and died 5 Feb 1857 in Mason Co., IL.  He married in St. Clair Co., IL on 31 Dec 1816 (license on 19 Dec 1816) to Abigail TETER (5 Dec 1794 Pendleton Co., VA (now WV) - 9 Feb 1855 Mason Co., IL), daughter of Abraham & Mary (KITTLE) TETER.  James & Abigail ESTEP are buried in Walker's Grove cemetery, Easton, IL.

Their children were:  Abraham, James Madison, Tonor Blackburn, George Washington, Rhoda Caroline HALSEL SKIPTON, Mary Emeline SKIPTON, Rebekah Arminda JACKSON NORRIS, William Jackson, Finis Ewing, Louisa A., Martin Van Buren, David Crockett and Isaac Newton.  For more information on James, Abigail and their children, see pages 121-122 in the Estep, Thomas, Sr. book.

The photo was taken circa 1895 of James and Abigail Estep's sons:  [from left to right] David Crockett (1838 - 1904), William Jackson (1831 - 1911), Abraham (1818 - 1896) and James Madison (1819 - 1904).  The other sons were deceased by 1895.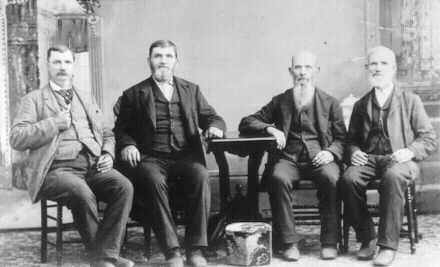 [photo courtesy of Martin F. Hanson, M.D.]